Ez a cikk több mint 8 éves.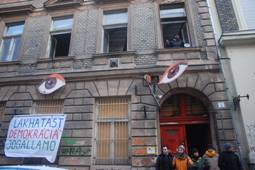 The Hungarian NGO "The City is for All" is fighting for the rights of homeless people – but not only for them, but with their active participation. They have much on their hands these days: the Parliament recently passed a constitutional amendment criminalizing living on the streets.
The City is for All (A Város Mindenkié – AVM) was founded in 2009 in Budapest by homeless and formerly homeless people along with likeminded activists. The idea of organizing the group originally came from members of Man on the Street (Az Utca Embere), a grassroots group that fought for housing rights between 2004 and 2008. Man on the Street was an important example of grassroots organizing. However, the original mission of creating a mass movement failed and despite its radical rhetoric, Man on the Street did not break with the status quo: homeless people remained the object of middle-class activism and did not become active subjects in the process of social transformation.
After Man on the Street broke up, some of its members started to look for a different and more meaningful way to fight for housing rights. Picture the Homeless, a homeless-led advocacy group in New York provided an inspiring example of a very different approach by demonstrating how homeless people are able to become community leaders on their own behalf.: AVM was conceived.
AVM is open to anyone experiencing housing poverty and it organizes its activities around three main areas: social housing, social services and street homelessness. The group runs a campaign against the warehousing of vacant apartments and has been involved in direct action to prevent the eviction of social housing residents and shack dwellers. In the area of homeless services, AVM organizes advocacy workshops and creates consultation forums for social service users and providers to challenge the paternalistic logic of the shelter system. As homeless women face particular problems, AVM has also created a group exclusively catering to this group. Finally, in addition to producing a know-your-rights booklet and distributing it among homeless people, the group also operates a weekly free legal clinic on a public square in Budapest for homeless people and anyone struggling with housing problems.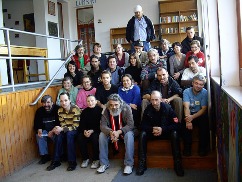 With around 80% of its members having experienced homelessness or inadequate housing, AVM provides a model and a training ground for democratic practices and cross-class cooperation. Self-elected allies tend to be more highly educated, have much better social connections, stable family backgrounds, a job or some steady source of income and higher levels of self-confidence. Homeless activists live in precarious situations with virtually no family or social network to support them. In order to overcome these inequalities, the group has created an organizing process and working structure that uses the advantages of allies to the benefit of the whole group, while minimizing their possibilities of control and empowering homeless members to take charge. AVM has been instrumental in fighting against the growing criminalization of homelessness since 2010, when the government's plans to make homelessness illegal first became public. In addition to demonstrations, petitions, lobbying and negotiations with elected representatives as well as public forums for homeless people, the group engaged in radical direct action as well. In April 2011 AVM disrupted the meeting of the general assembly of Budapest to protest the enactment of the first local ban on sleeping in public spaces.
In the fall of 2011, when the 8th district local government started a large-scale anti-homeless campaign, AVM organized a 24-hour vigil in front of the temporary detainment center created specifically to arrest homeless people.
Finally, in November 2011 several members of the group took part in a sit-in at the 8th district mayor's office, who was also one of the sponsors of a law hat would make street homelessness illegal all over the country and impose a several hundred dollar fine for violators. The protesters demanded that the bill be immediately repealed . Thirty protesters were arrested and later found guilty of resisting police action. However, as the judge decided that their actions were not dangerous to society, most of them were let go with a warning. Unfortunately, the bill was passed and came into effect in January, 2012.
In a surprising turn of events, the Hungarian Constitutional Court examined and struck down the law that made homelessness illegal in November 2012. This was a huge moral success for AVM . While the Court buttressed its decision with legal arguments, it also proclaimed – in line with the group's message – that homelessness could only be addressed as a social issue and never as a criminal one. Two years of struggle paid off – the rule of law, solidarity and human rights won over exclusion, oppression and inhumanity.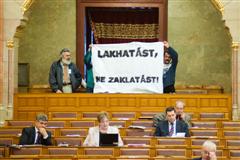 Still, Prime Minister Viktor Orbán declared that the government would not accept the ruling and that an amendment would be made to the Constitusion that would make homelessness illegal.This way even the Constitutional Court cannot object to it any more. After this AVM decided to step up its efforts of mobilization through a large demonstration, an awareness raising campaign and open letters to decision-makers. As the government did not respond to any of this pressure, members of AVM decided to participate in the most serious action of civil disobedience in recent Hungarian history: a sit-in at the headquarters of the ruling party Fidesz in March, 2013. The occupation led to the escalation of the struggle against the 4th amendment to the "Fundamental Law" (the name of constitution of Hungary since 2012), which was going to have an adverse effect on not only homeless people, but gays and lesbians and university students as well and solidified a series of anti-democratic measures. Unfortunately, despite all efforts from the grassroots, the Parliament passed the amendment in March 2013.
But we are not giving up! Despite the criminalization of homelessness at the highest legal level in Hungary, we believe that things can still be changed. AVM continues to fight not only against unjust laws that oppress homeless people and for real solutions to end mass homelessness, but also for a Hungary that is based on democracy and social justice.
– Éva Tessza Udvarhelyi
Original publication: Kellner Scholarship Newsletter, April 2013, edited by Beatrix Balogh, Anita Kőműves and Barbara Hanis
Ezt a cikket eredetileg az AVM régi blogján publikáltuk.